CATEGORIES
Latest news
Contact us
ADD: Chumen, Yuhuan, Zhejiang, 317600
TEL: +86-137-3658-4866
FAX: +86-576-8460-5915
E-mail: info@jeteco-tools.com

> Cutter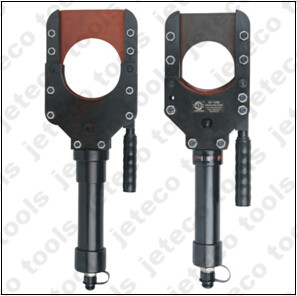 Hydraulic cable wire cutter head
Product description: Cutting copper aluminum cable wire max up to 130mm diameter.
PRODUCT INTRODUCTION
Heavy duty hydraulic cable wire cutter head, hydraulic pump operated hydraulic cable wire cutting tool.
Suit for cutting copper aluminum cable wire, steel corn cable, armored cable, ACSR cable and stainless steel wire rope.
Special steel material cutting blades, can be sell separately.
NPT 3/8 coupling connector for jointing hydraulic pump.
Hydraulic hand pump, foot pump, electric motor hydraulic pump for optional.