CATEGORIES
Latest news
Contact us
ADD: Chumen, Yuhuan, Zhejiang, 317600
TEL: +86-576-8460-5915
FAX: +86-576-8073-8503
E-mail: info@mmhtools.com

> Metal processing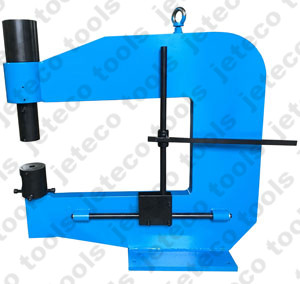 G shape hydraulic hole puncher
Product description: Wide working range, G shape hydraulic hole puncher machine.
PRODUCT INTRODUCTION
Jeteco Tools brand G shape
hydraulic hole punch
er machine, it is new designed hydraulic stand hole punching machine.
Suitable for hole pressing in steel, stainless, aluminum and plastic.
It is a perfect
hydraulic hole punch
ing machine for working wide range, max working up to 550mm.
We can make the machine with 200mm, 300mm, 400mm, 500mm, 550mm for optional.
It is easy to punch round hole and square hole.
The machine can comes with a stand base, also can be easily fixed on worktable.
Perfect workshop machines for metal hole punch processing.
If you would like to know more information about the Jeteco Tools brand G type hole puncher machine, you can feel free to contact us by telephone call or by emails.